The first three years of every child's life are critical.
What is the Early Start program?
The Early Intervention Program for Infants and Toddlers with Disabilities was enacted in 1986 under the Individuals with Disabilities Education Act (IDEA; 20; U.S.C., Section 1431 et seq.).  The Early Start program is California's response to the federal legislation ensuring that early intervention service for infants and toddlers with disabilities and their families are provided in a coordinated family-centered system of services that are available statewide.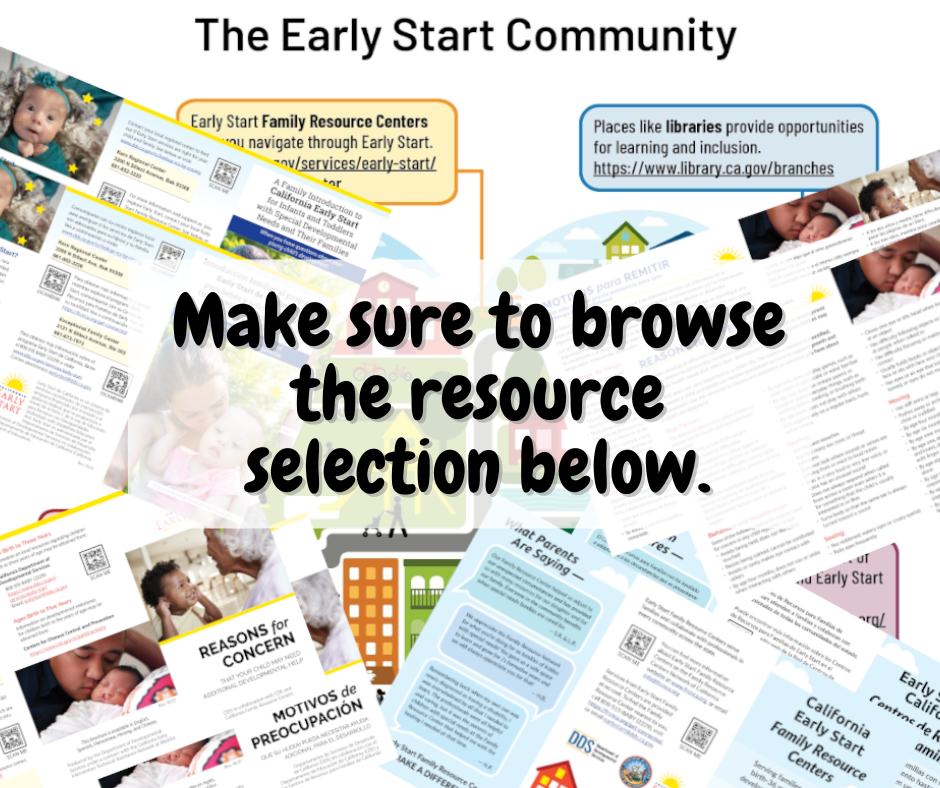 A Message from California's Surgeon General,
Dr. Nadine Burke Harris
Infants and toddlers from birth to age 36 months may be eligible for early intervention services through Early Start if, through documented evaluation and assessment, they meet one of the criteria listed below:
have a developmental delay of at least 25% in one or more areas of cognitive, communication, social or emotional, adaptive, or physical and motor development including vision and hearing; or
have an established risk condition of known etiology, with a high probability of resulting in delayed development; or
be considered at high risk of having a substantial developmental disability due to a combination of biomedical risk factors diagnosed by qualified personnel
California Government Code: Section 95014(a)
California Code of Regulations: Title 17, Chapter 2, Section 52022
Developmental Services Trailer Bill SB 188
What early intervention services are available?
Based on the child's assessed developmental needs and the families concerns and priorities as determined by each child's Individualized Family Service Plan (IFSP) team, early intervention services may include:
assistive technology
audiology
family training, counseling, and home visits
health services
medical services for diagnostic/evaluation purposes only
nursing services
nutrition services
occupational therapy
physical therapy
psychological services
service coordination (case management)
sign language and cued language services
social work services
special instruction
speech and language services
transportation and related costs
vision services
If you are in Kern, Inyo, or Mono Counties please call us here at Kern Regional Center (661) 327-8531.
For all of California if you need additional information about how to get Early Start services call (800) 515-BABY.
To learn more about the Early Start program, please click this link to view/download the standardized Early Start Information Packet:
English – ES Information Packet (KRC)
Spanish – ES Information Packet (KRC)
Additional languages for the Early Start Information Packet are available on the Department of Developmental Services website.
한국인 – Korean
简体中文 – Simplified Chinese
Tagalog
Tiếng Việt – Vietnamese
Watch in American Sign Language (ASL) – Coming Soon
Early Start Newsletters