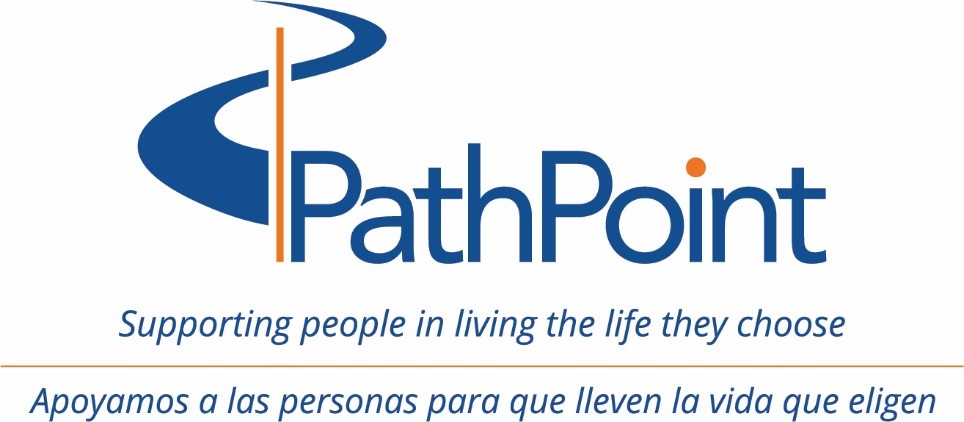 PathPoint
Mission– PathPoint supports people in living the life they choose. We partner with people with disabilities and people with mental health diagnoses to pursue their hopes and dreams through strengthening workplace abilities, building life skills, and developing meaningful relationships.
Services- PathPoint offers a wide variety of services to help individuals with developmental disabilities overcome barriers to employment, to place them in jobs, and to provide them with the training and support they need to keep jobs. Steady employment is a driving force behind dignity, social integration, well-being, and positive self-image. Regardless of the individual's circumstance, abilities or disabilities we believe that steady employment is the foundation of a healthy and fulfilling life in the community. We currently offer the following employment services:

Individual Supportive Employment (ISE)– prepares and supports individuals to enter the workforce through job development and direct employment with local businesses.
External Situational Assessments (ESA)– utilizes actual work sites to identify an individual's current level of employability or as part of an eligibility determination through a short-term work experience.
Personal, Vocational, Social Adjustment (PVSA)– assists individuals develop or reestablish skills, attitudes, personal characteristics, interpersonal skills, work behaviors, and functional capacities to achieve and maintain positive employment outcomes.
Vocational Assessment Services– assess basic information about an individual's current education and vocational levels, abilities and interests.
Paid Internship Program (PIP)– paid internships for individuals in competitive employment settings.
Student Work Experience (SWE)– paid work experience, 100 hours, for students with disabilities aged 16-21.
Project SEARCH– participants attend a one-year, 5-day a week, paid internship program in a business setting, participating in work rotations at the host site to gain experience and transferable skills. PathPoint partners with Kern County Library and leads afternoon workshops at the site covering: communication, interviewing, job search and reflection. Participants also receive job support and mentoring following the completion of the program to secure competitive employment.
Contact PathPoint
PathPoint
Shawn White, Vice President of Kern County
4701 Stockdale Hwy Bakersfield CA 93309
(661) 617-6170
Shawn.White@PathPoint.org