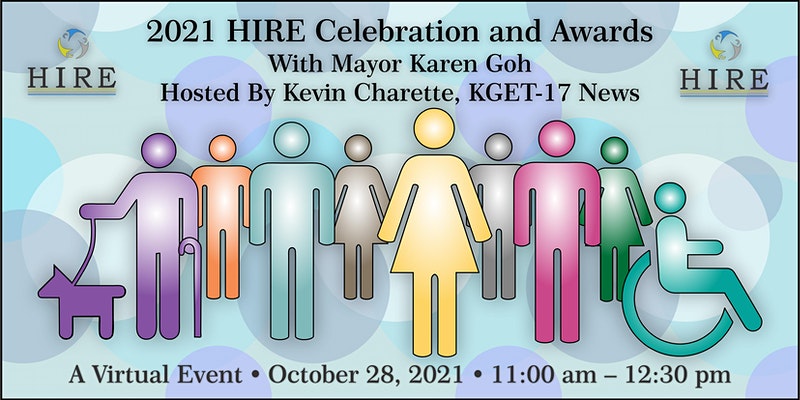 2021 HIRE Celebration & Awards
You Are Invited!
2021 HIRE Celebration & Awards
A celebration of EMPLOYERS who hire people with disabilities & their successful EMPLOYEES!
Thursday, October 28, 2021
A Virtual Celebration
11:00 a.m. to 12:30 p.m.
REGISTER HERE: https://2021hirecelebrationawards.eventbrite.com
Mayor Karen Goh Mayor of Bakersfield
Kevin Charette KGET-17 News
Inspirational & Informative speakers
Drawings & Prizes
Mayor Harvey L. Hall Humanitarian of the Year Award
Employer Champion Awards and Employee Champion Awards
THIS IS A FREE EVENT
Please purchase opportunity drawing tickets (below) to support annual HIRE Events for job seekers with disabilities! – Thank You!
Opportunity Drawing Baskets & More! Buy tickets to win!
Date Night Basket
Beer & Wine Basket
Coffee Lovers Basket
I LOVE Pets Basket
Movie Night Basket
Family Game Basket
& More
Ticket Prices: $1.00 each Six for $5.00 25 for $20.00
Each attendee gets ten free tickets. Buy more tickets on PayPal or Venmo!
Purchase on PayPal: hire.bakersfield@gmail.com
Purchase with Venmo:@HIRE-Committee
Winners announced at the HIRE Celebration & Awards
You do not have to be present to win!
Thank you to our basket donors: Kern Adult Services, Pathpoint, BARC, California State Department of Rehabilitation, Kern Regional Center, Dr. Terri Goldstein, Valley Achievement Center, Taft College TIL Program, Bakersfield College.