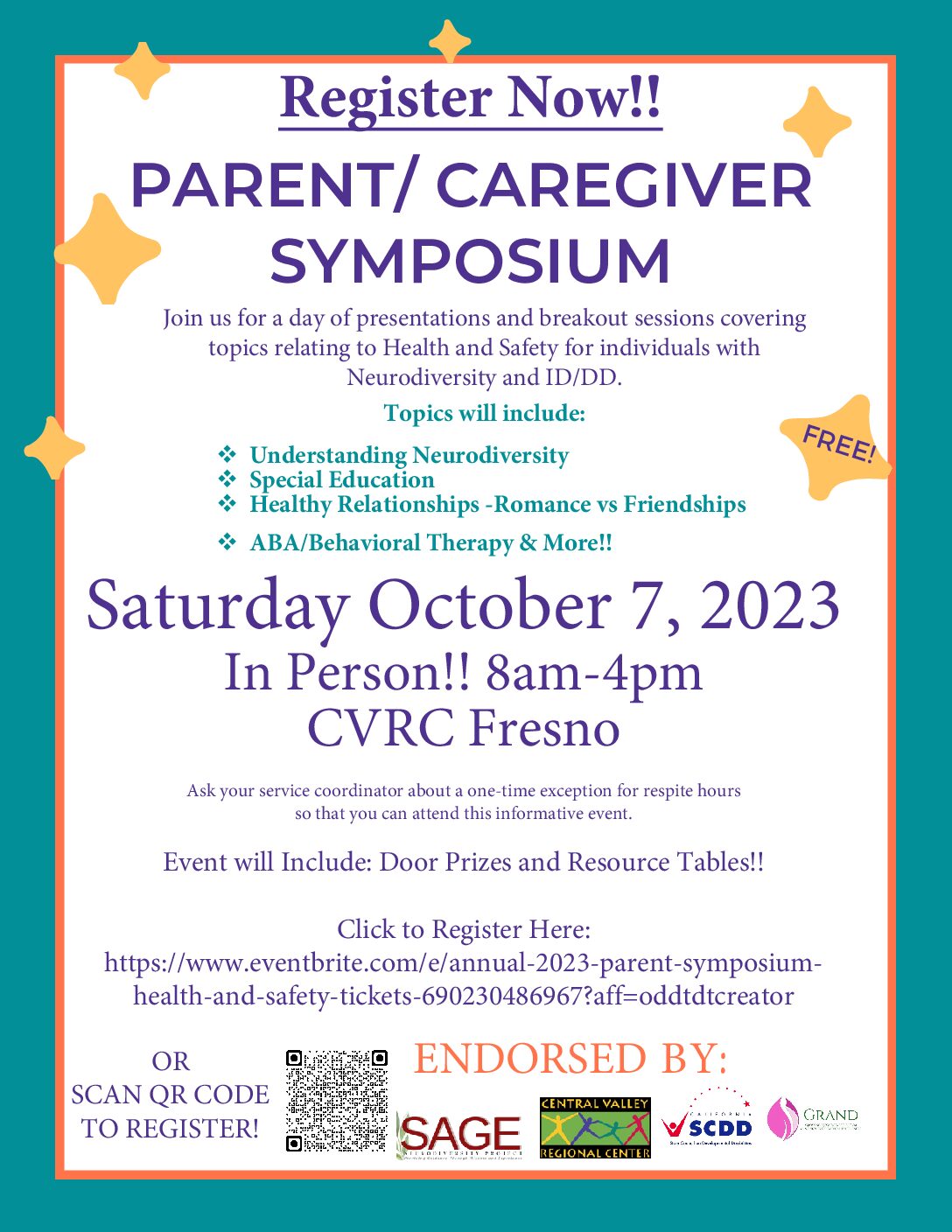 Central Valley Regional Center: Annual Parent Symposium 2023
Register now for the upcoming Parent Symposium! This will be a great opportunity for Parents/Caregivers to gain invaluable information on so many topics. You will also get a chance to talk to all the presenters and ask questions. There are no other events like it in our area!
Join us for a day of learning and community building. Event will feature speakers on many topics and relevant issues for those with Neurodiversity and ID/DD. We will have door raffles and innumerable resources for parents and caregivers.
Topics/Speakers will include:
Understanding Neurodiversity – Dr. Patrick Shea, MD, Integral Psychiatry and Counseling/Volunteer Faculty, UCSF-Fresno
More Than a Diagnosis – Dr. Jennifer Johnson, Developmental-Behavioral Pediatrician, Valley Children's Hospital
Safety Issues Impacting People with Disabilities – Yolanda Cruz, Regional Manager Sequoia Office, SCDD
The Proactive Approach to IEP's – Jodie Howard, Attorney at Law, San Joaquin College of Law; Bren Clinic
Healthy Relationships – Romance vs Friendships -Veronica Magallanes, Community Program Specialist, SCDD
Breakout Sessions Will Include:
ABA and Behavior Technician Roles and Responsibilities – Kacie Anne Massoudi, Adjunct Faculty and Behavior Analyst, California State University, Fresno
Expectations for ABA Providers: Red Flags and Green Flags – Amy Patterson, Behavior Analyst, CVRC
The Involvement of Loved Ones in Advocacy – Jordan Noble, Youth Empowerment Specialist, RICV
Plus More!
To Register you can either visit the Weblink by clicking below or the live link on the attached flyer. You can also scan the QR Code!!
Annual 2023 Parent Symposium – Health and Safety Tickets, Sat, Oct 7, 2023 at 8:00 AM | Eventbrite