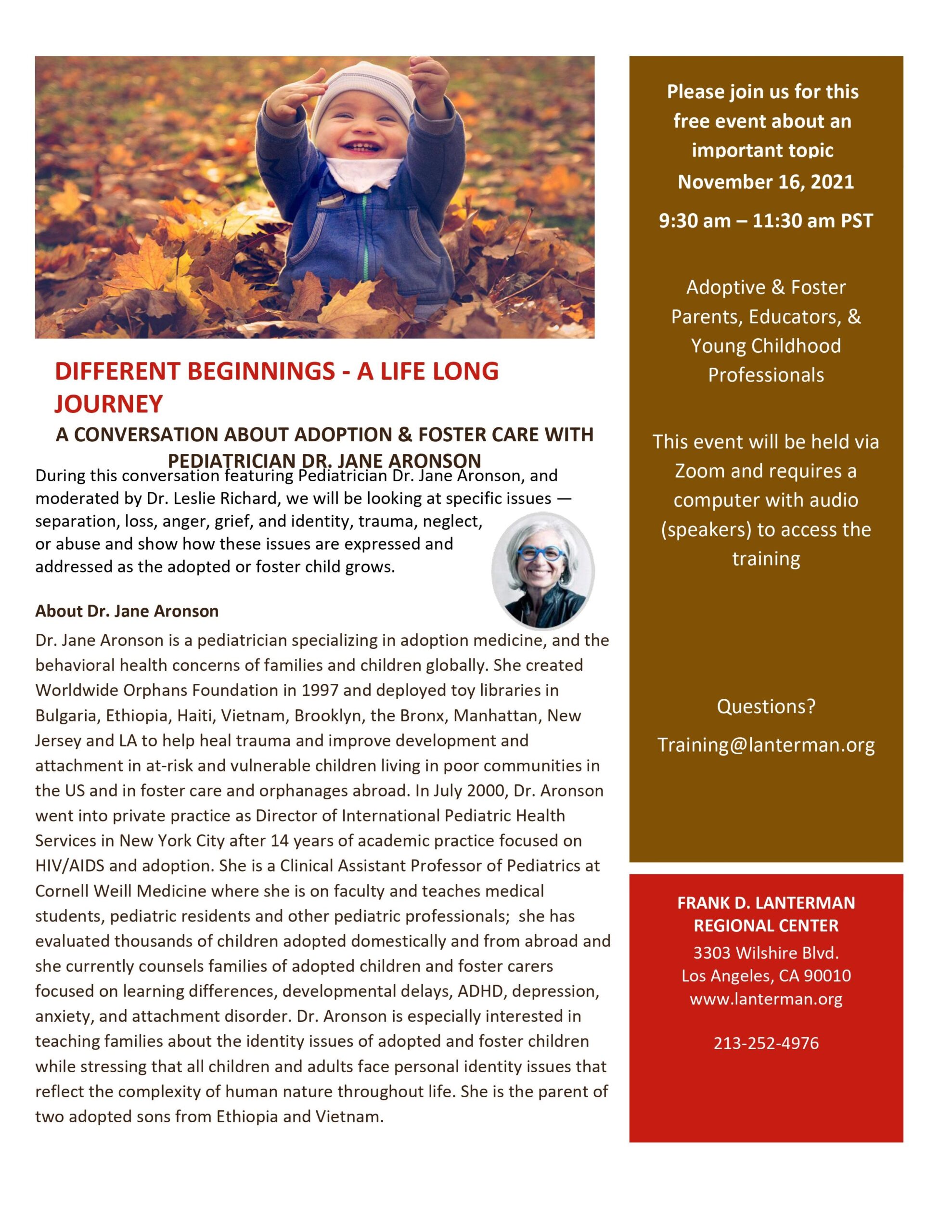 Different Beginning: a Life Long Journey
About the Conversation…
During this conversation featuring Pediatrician Dr. Jane Aronson, and moderated by Dr. Leslie Richard, we will be looking at specific issues —separation, loss, anger, grief, and identity, trauma, neglect, or abuse and show how these issues are expressed and addressed as the adopted or foster child grows.
About Dr. Aronson…
Dr. Jane Aronson is a pediatrician specializing in adoption medicine, and the behavioral health concerns of families and children globally. She created Worldwide Orphans Foundation in 1997 and deployed toy libraries in Bulgaria, Ethiopia, Haiti, Vietnam, Brooklyn, the Bronx, Manhattan, New Jersey and LA to help heal trauma and improve development and attachment in at-risk and vulnerable children living in poor communities in the US and in foster care and orphanages abroad.
In July 2000, Dr. Aronson went into private practice as Director of International Pediatric Health Services in New York City after 14 years of academic practice focused on HIV/AIDS and adoption. She is a Clinical Assistant Professor of Pediatrics at Cornell Weill Medicine where she is on faculty and teaches medical students, pediatric residents and other pediatric professionals; she has evaluated thousands of children adopted domestically and from abroad and she currently counsels families of adopted children and foster carers focused on learning differences, developmental delays, ADHD, depression, anxiety, and attachment disorder.
Dr. Aronson is especially interested in teaching families about the identity issues of adopted and foster children while stressing that all children and adults face personal identity issues that reflect the complexity of human nature throughout life. She is the parent of two adopted sons from Ethiopia and Vietnam.