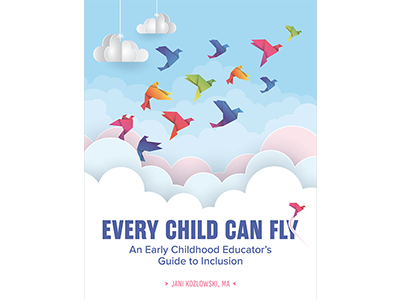 Every Child Can Fly: Including Children with Disabilities in Early Childhood Education
Every Child Can Fly: Including Children with Disabilities in Early Childhood Education
Thursday, Jun. 9 @ 3 pm ET (12 pm PST)
As an early childhood professional with a disability, a child of a parent with a disability, and the mother of a son with a disability, Jani Kozlowski, author of Every Child Can Fly: An Early Childhood Educator's Guide to Inclusion, brings a unique perspective to the inclusion of children with disabilities in early childhood settings.
In this edWebinar, Jani will share personal stories, current research and evidence-based practices for educators, coaches, trainers and leaders in Head Start, child care and prekindergarten programs. Attendees will learn strategies to foster inclusive learning environments, individualized teaching practices and meaningful family engagement. We believe that by building secure relationships and trust with children and families, educators can facilitate a culture of belonging, caring and kindness. The past two years have been challenging for all of us, so let's find out how to promote inclusion as an intervention that is healing for each and every child, family, and educator.
This edWebinar will provide educators, leaders, coaches and other early childhood professionals with strategies to:
Apply lessons learned from research on inclusion, access and equity to promote and practice high-quality inclusion in early childhood environments
Build skills and confidence for meeting the needs of each and every child
Develop secure relationships with children and families that can reduce stress and build trust
There will be time for questions at the end of the presentation. Learn more.