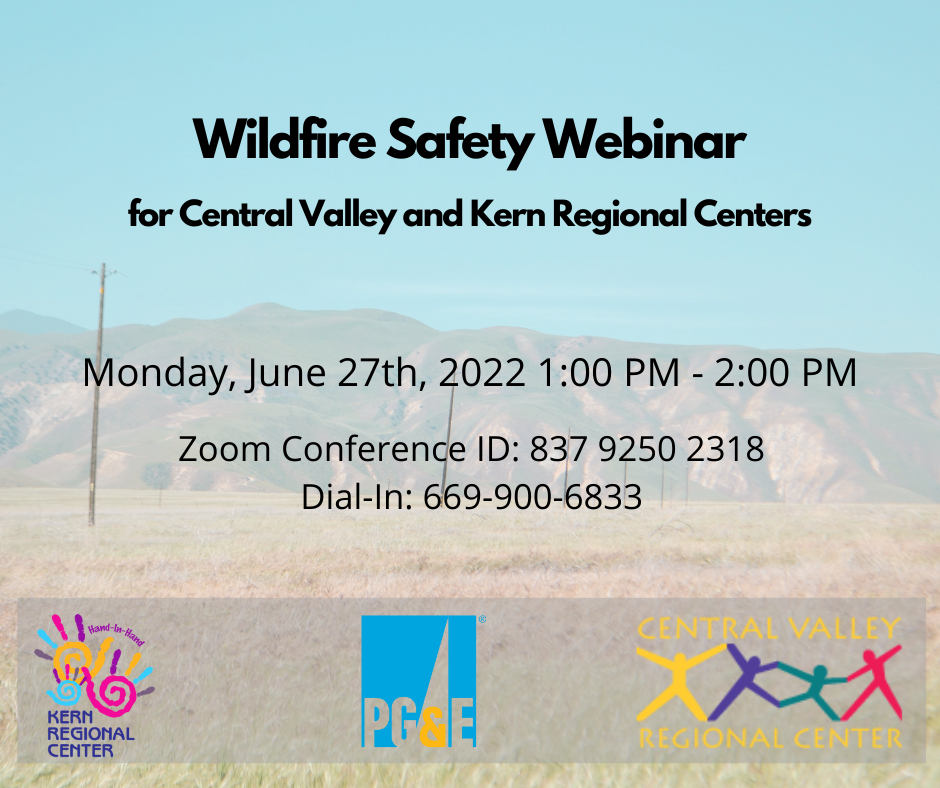 Wildfire Safety Webinar for Central Valley and Kern Regional Centers
Wildfire Safety Webinar for Central Valley and Kern Regional Centers
Monday, June 27, 2022  1:00 PM to 2:00 PM
https://bit.ly/3xRTEtV
Dial-In: 669-900-6833
Conference ID: 837 9250 2318
Pacific Gas and Electric Company (PG&E), puts the safety of our customers and communities first.  Join out wildfire safety webinar on Monday, June 27, 2022 at 1:00 PM, where we will share our wildfire prevention efforts and resources available for our customers.  You will have an opportunity to ask questions and share your feedback with the PG&E team.
Learn more about our:
Public Safety Power Shutoff
Address Alerts Tool
Medical Baseline Program
Additional Customer Resources
Region-Specific Partnerships
Who is Invited:
Kern Regional Center Employees
Central Valley Center Employees
Vendors and Community Partners
Individuals Served
English, Spanish and Chinese closed captioning will be available, along with American Sign Language interpreter.  Feel free to share this invitation with anyone from your team who may be interested in learning more about our wildfire safety efforts.  Please reach out directly with any questions.
Monday, June 27, 2022  1:00 PM to 2:00 PM
https://bit.ly/3xRTEtV
Dial-In: 669-900-6833
Conference ID: 837 9250 2318